The initial run of Grips by Simonich for the HiPower have pretty much been shipped. After reviewing all the threads that I posted on several forums regarding the pair I rec'd, there have been a couple of minor problems reported regarding fit by other members.
As with my pair there was a need to fit the grips to the particular HP I added them to. The problem of fit does not rest with the grips, there have been many posts going back eons, reporting fit problems of custom grips by various renowned makers for the HiPower. The problem is with the pistol itself. The HiPower has a somewhat complicated grip design with uneven surfaces from the butt of the gun up to the safety and from back to front there are "Highs and Lows". Unlike the 1911A1 with a flat surface that basically requires just the top of the grip be shaped and contoured the HP has to have the inside surface shaped and contoured as well. This requires lots of attention to detail by those who hand make grips. Also lots of trial and error by makers of mass produced grips such as Gunners, Uncle Mikes, Hogue, etc. And add to the fact the the original HP's were forged then in the late 80's changed to cast frames. Plus the variations of HP's from Hungary, Argentina, Canada, etc. Things do change . . . it's like buying a part for a 5 year old car that needs to be modified to fit because it was made today.
Today I pulled out several different HP models, varrying in mfg date from 1944 to 2001.
1911 Inglis . . . did not fit
1967 BHP "T" . . . did not fit
1978 BHP Centennial . . . did not fit
1987 BHP GP35 Comp . . . did not fit
1994 BHP MKIII Practical . . . did not fit
1994 BHP MKIII Standard . . . did not fit
2001 BHP MKIII Satin Chrome . . .
"FIT"
The Gunners grips fit only one of them without the need of retro fitting. That one is my "2001" MKIII Standard. The reason for this is that the grips that were supplied to Simonich as guides were from a late model MKIII which by the way for those who are new to HP's is a cast frame. So that's why there may be fitting adjustments needed for your HP with a set of Gunners grips. Gunners are well made and they did a great job on these grips and they made them to "spec", it's just that the spec is not uniform for all HP's
Now those who have been waiting for these grips don't be dissapointed because these grips can be modified very easily with the right tool(s) and patience. And since most of us are "Garage" gunsmiths and like to tinker with our "toys", that should pose no problem. In fact if you look at the "upside" it's almost like having a custom fit set of grips that you're doing the final fitting on.
It took me 10-15 minutes of reshaping with a Dremel tool with flex shaft to get these to fit well. Let me show you what needed to be changed. I scribed the inside of the grips by attaching them as well as I could and then setting the screw in place to hold them (one at a time) then scribing them from the other side through the frame, then doing the same to the other grip. Here you can see the marks where I need to remove material(which is really miniscule). At least we have extra material to remove instead of the being to little.
Now if you do this before you get started please wear eye protection and a dust mask as the sanding of this material creates a very fine powdery residue which I don't know if it's harmful to inhale but don't take the chance!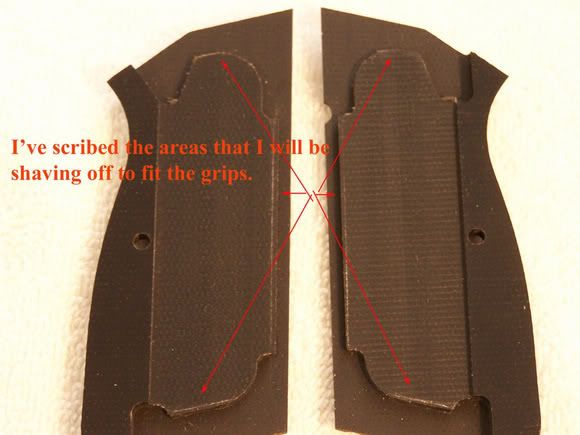 Now once that's done you have yourself a sweet set of grips. Oh! I don't think I mentioned which HiPower I fitted the grips to . . . well in a nutshell . . .
ALL OF THEM!!!!
. By sanding away a little material from the areas shown was all that was needed to get them to fit all the above listed HP's.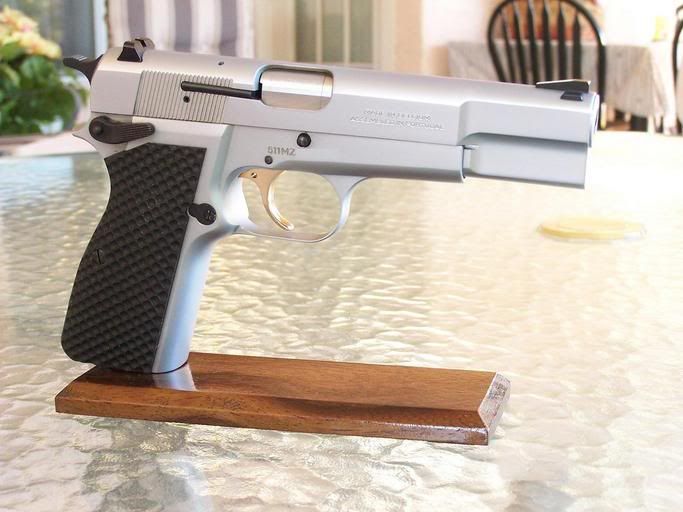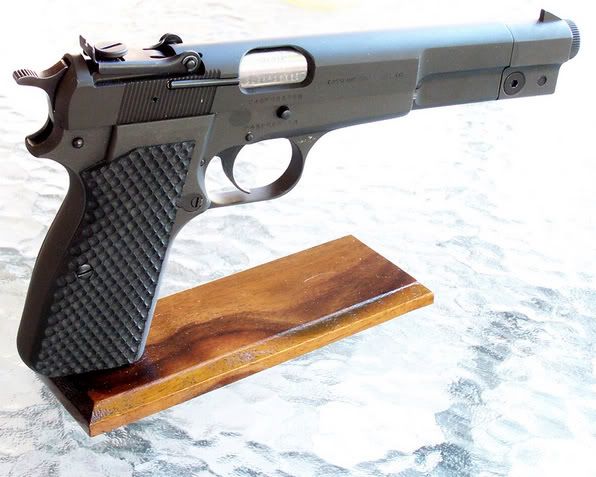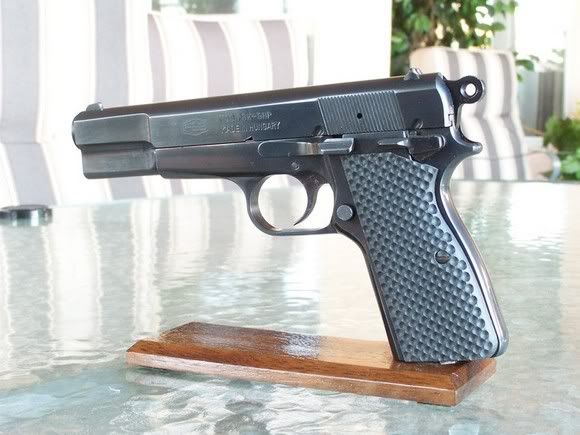 I hope this helps those who've had problems with grips fitting their HP's regardless of maker. Now you can understand that it's not the grip that's necessarily out of spec but the pistol for which it was purchased.
So if you want a great pair of grips that you can be tough with "Gunners" are the way to go. And I'm sure that since the grips are brand new that they might still be able to be adjusted a bit by the factory in future shipments to reduce the actual need to refit them.
RC